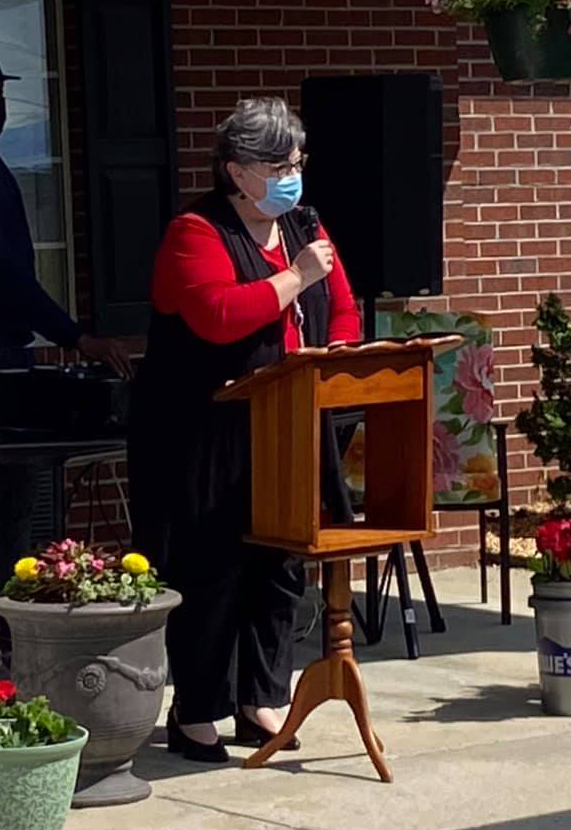 Mayor Merilyn Newell gives a proclamation during the Canterbury House 22nd Anniversary Celebration on Tuesday, April 13.
Mayor Proclaims April 13 as 'Canterbury House Day'
Local Assisted Living Community Celebrates 22 Years of Service
Local Assisted Living Community, Canterbury House, celebrated 22 years years of service in the Roxboro Community on Tuesday, April 13. The community has been providing specialized housing, supportive services, personalized assistance and healthcare to seniors since 1999.
"On behalf of the Roxboro City Council, I declare that April 13, 2021 be recognized as Canterbury House Day, celebrating the years of service to the community and hereby urge all citizens to take special note of this observance by acknowledging and supporting the ongoing contribution of the Canterbury House," said Roxboro Mayor Merilyn P. Newell.
During the proclamation, Mayor Newell highlighted the community's dedicated care-givers. One of the most notable long-term employees of Canterbury House is Executive Director, Geraldine Yancey. Yancey began her senior living career 44 years ago at the age of 21. She worked as a cook at the local nursing home. She also worked as an activity director/med tech. Yancey attended Piedmont Community College where she received an Associate's Degree in Applied Science, Social Services. She also has a Bachelor's Degree in Business Admission from Averett University.Yancey has worked her way through the ranks and took the lead of Canterbury House in 1999 as the Executive Director. She has been the only administrator for the community since their opening 22 years ago.
Along with Yancey, the community has had several other dedicated employees. Avis Goode, Margaret Woods, Cleo Stukes and Carolyn Rogers have all served at Canterbury House since 1999. Hilda Pass, Helen Connally, Ethel McNair and Earl Vaughan have all served for 15 years or more.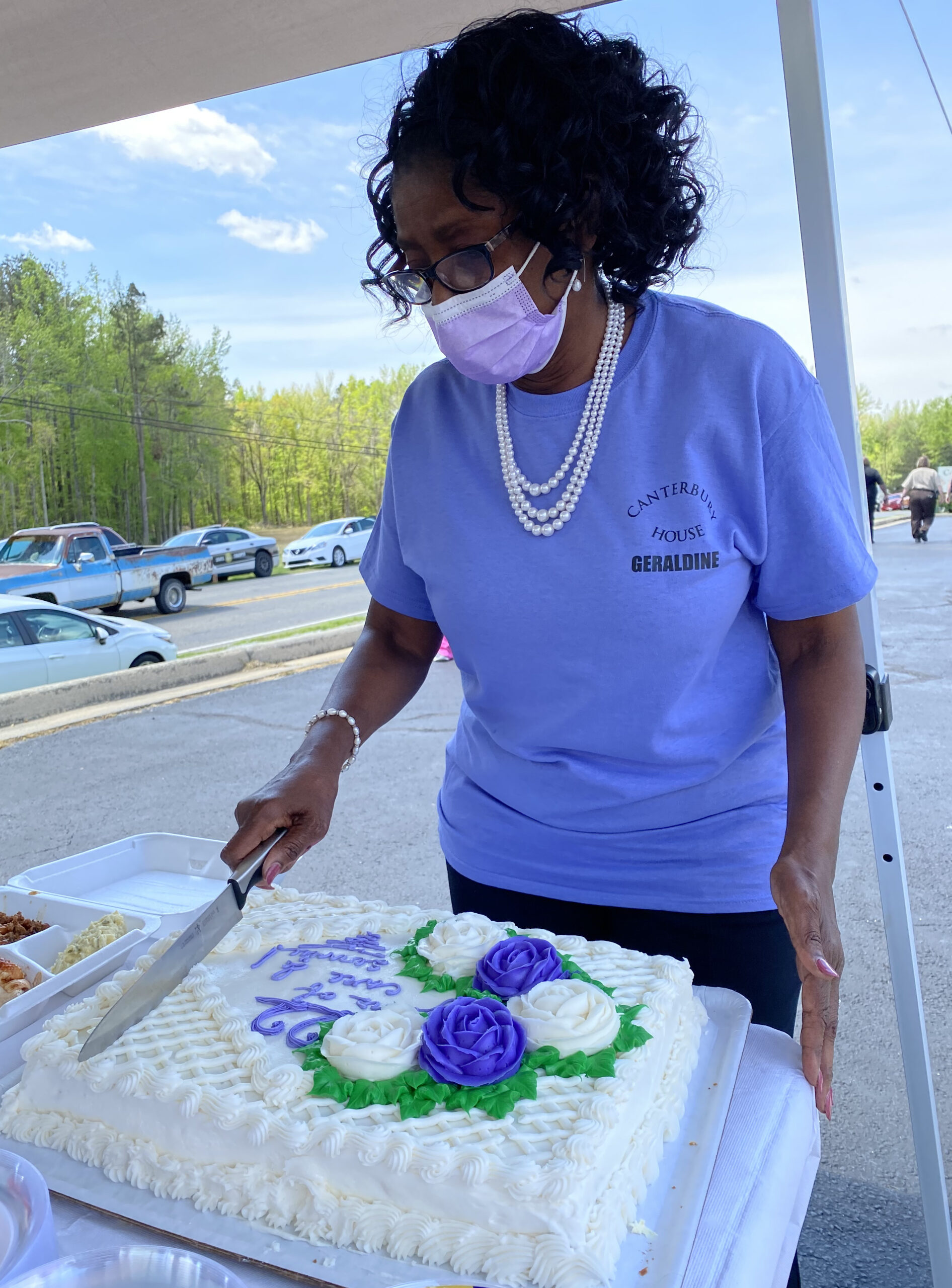 Canterbury House Executive Director, Geraldine Yancey, cuts the cake for the community's 22nd Anniversary. The Assisted Living Community held their celebration on Tuesday, April 13.
Executive director, Geraldine Yancey, poses with Charlie Trefzger, in celebration of the 22nd anniversary of Canterbury House.
Canterbury house has been the recipient of the Safety and Health Achievement Recognition Program award for the past 17 years. Life Enrichment Coordinator, Earl Vaughn, also established the Candy Cane Choir which engages residents, and allows them to participate and perform in the community's annual Christmas Open House.
"I am proud of what we have here at Canterbury House," Yancey said. "I have always worked to make this community a safe, wonderful place for everyone who calls it home, and I will continue to do that with the help of my amazing team here. My passion for caring for seniors is staying strong."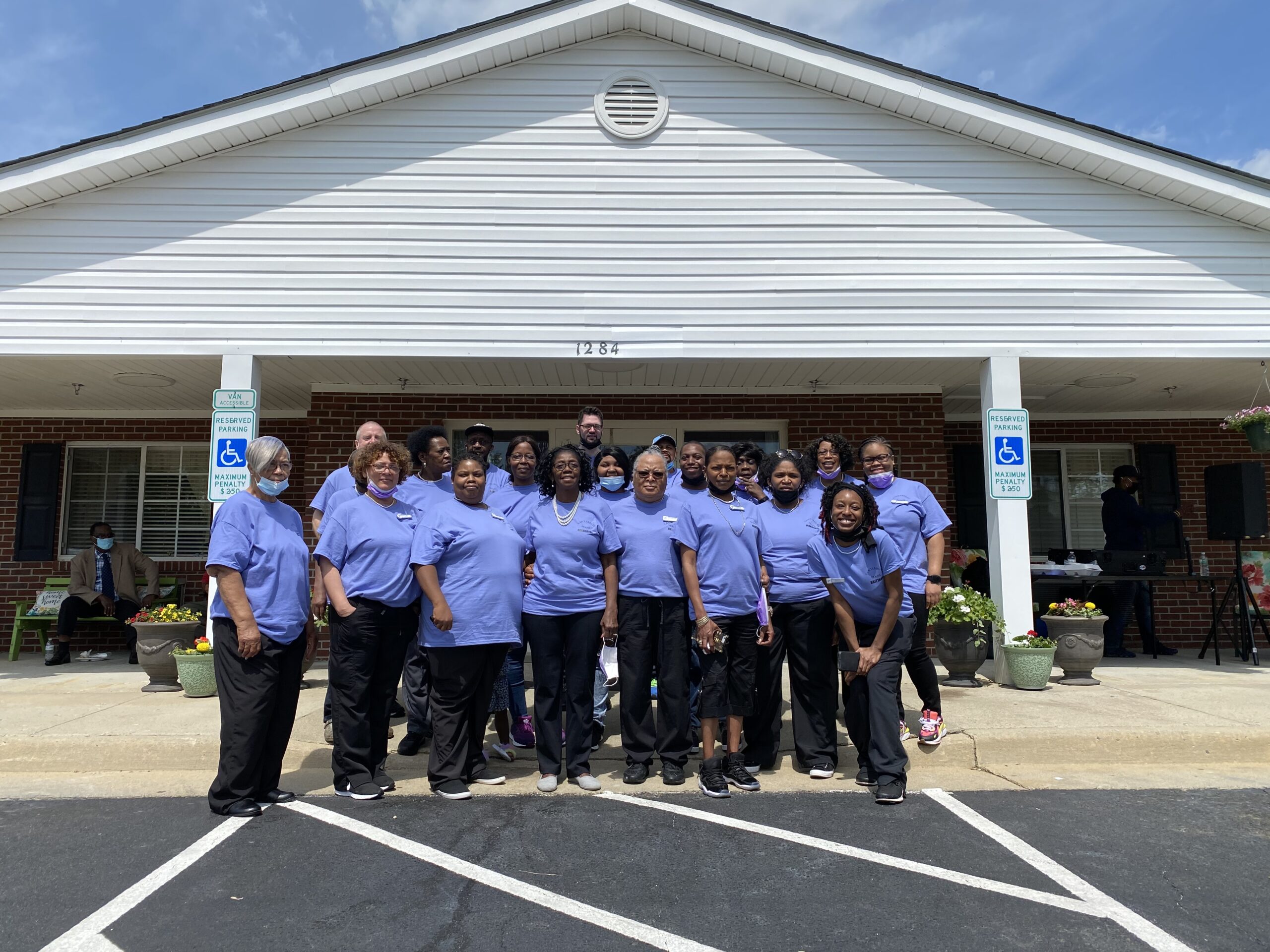 Staff at Canterbury House Assisted Living gather in front of the community to pose for a photo at the 22nd Anniversary Celebration.